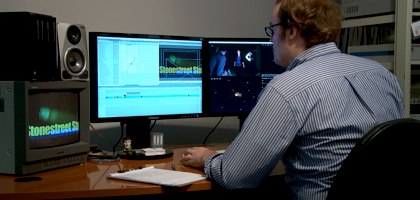 We offer an entire range of services from site surveys, scripting, storyboarding, directing, shooting, and editing. Call us for the production of your next television commercial, public service announcement, documentary, or weekly TV show.
We can produce product demos, trade show presentations, seminars, in-service training programs, banquets, reenactments, "How To" videos, or legal depositions. The program can be mastered and duplicated to any format. We can custom print it, package it, and even drop ship it for you. Give us a call for all your corporate needs. Please refer to our Customers link for a detailed listing of our corporate clients.
We can produce your next web video for your website. Instead of having your website be composed of text only, let us produce short videos explaining your company, services, etc. We are a television oriented society that relies on video to educate and inform us. It is a proven fact that website visitors would rather watch a short video explaining the company's products and services than to read the exact same thing.